Heltwate SChool LEGACY 110 PROJECT
'Legacy 110' is an award-winning initiative which encourages students who engage in the First World War Centenary Battlefields Tour Programme to deliver a community-based First World War project. Heltwate has been very fortunate as they have been on the tour twice. 
The aim of 'Legacy 110' is for every participating student to create an enduring legacy by impacting upon at least 110 people within their local community. At Heltwate participants will be conducting whole school assemblies as well as visiting their former primary schools to present what they found out.
Every student who completes a 'Legacy 110' project will receive a certificate of achievement and a specially commissioned First World War centenary pin badge.
For more information please go to: https://www.centenarybattlefieldtours.org
How do  we choose who is to attend?
All students in Green and Amber class were invited to enter a competition for the chance of winning one of the two coveted slots for students. After a number of entries two students were chosen to attend and represent Heltwate on the tour. The lucky students were Logan and Declan.
This was not for students alone, staff were also invited to submit their interest in attending the tour with the students outlining why it would be beneficial to them and the school that they attend. It was a close call but in the end it was decided to send Mrs Jackson and Mrs Ainely to represent the school.
When do they leave?
The tour dates are Friday 15th June to Monday 18th June 2018.
What have students had to do to prepare?
Both students have been asked to research the topic at home. Examples of their work can be seen below.
Log of our Journey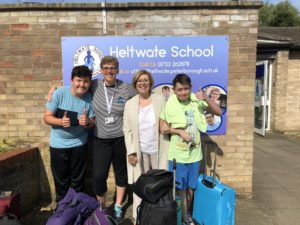 On 15th June 2018 our intrepid group set off their historic adventure.